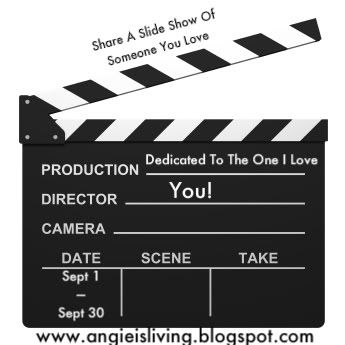 I love watching slide shows that people put together of their loved ones, I also like making them! That's why I came up with a month long "Dedicated To The One I Love" blog fest! This means you have a month to put together a wonderful video slide show of someone you love. Sometime in the middle of September I'll be posting McKlinky so everyone post their links, which will be allowed to post until September 25th 11:59PM . Then from September 26th - 30th everyone will be able to comment and vote on their 3 favorite videos. After the votes are counted I will post the winning video on my blog and the winner will win a $50 Amazon Gift Card!!!
Be sure to follow me so you can stay inform of this exciting event!
The only requirement you need to do if you want to participate, is to post the "Dedicated To The One I Love" button on your blog.
Lets have some fun!!!
Here is an example of one video I did earlier...
Some helpful tools:
Windows Movie Maker 2.1 Download
Youtube